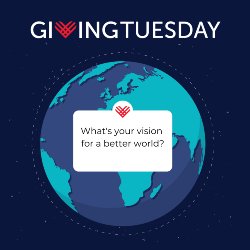 What

#GivingTuesday - Let's do something big together!

When

11/29/2022, 12:00 AM

–

11:59 PM

Where

www.azgives.org/villamontessorischool
Villa is an Arizona Charter School that allows us to provide education tuition-free from kinder through 8th grade. But, that means we receive 25% less funding per student than public schools and funding across the state for education is already sub-par, as we all know.

A week from today is GivingTuesday, and we set a big goal: We want to raise $7,500 in a single day to fund expanding character education, extracurriculars, gardening and nature, outdoor shading and health care supplies. Your support can help make it possible.

Join us on GivingTuesday, a day that inspires hundreds of millions of people to give, collaborate, and celebrate generosity. Together, we can reach this important goal on November 29.

Since GivingTuesday relies on the limitless potential of social media, don't forget to share, tag us, and use the hashtags #GivingTuesday and #IamVilla. Visit our social sharing pages www.instagram.com/villa_montessori/ and www.facebook.com/VillaMontessoriPrivateAndCharterSchool/ for posts and images to share with your friends and family.

Busy that day? You also can make a gift now at www.azgives.org/villamontessorischool to be processed on GivingTuesday.

From all of us at Villa Montessori School, thank you for your support—on GivingTuesday and every single day you help to enable our mission!