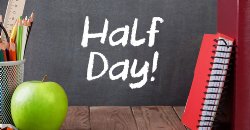 What

All School Early Release - No All Day Contracts (Circle)

When

8/24/2018, 11:30 AM

–

12:30 PM
Friday, August 24th, ALL school will be released at 11:30 AM. This includes all day contracts and there will not be after school care on this day (Circle) or Pizza Friday. Staff will be participating in Professional Development Day, which will include important training for all of our staff. We appreciate your support and ask that you pick up your children in a timely manner next Friday.
ALL students, including Infants and All Day contracts, will be released at 11:30 AM.
Early Childhood Campus:
For 11:30 AM pickup at the Early Childhood Campus, we ask that all parents use Carline instead of parking and walking in. With all children being released at once, we simply do not have the parking to accommodate everyone—and the parking spots that we do have are reserved for parents of Infants and Toddlers.
Elementary Campus:
In an effort to run the carline more smoothly, we will excuse all Elementary I students 11:15 AM and Elementary II students at 11:30 AM. If you have an Elementary I child, please arrive by 11:15 AM to pick him/her up. Elementary II children will join the Carline at 11:30 AM for pickup.
Middle School Campuses:
Please use Carline to pick up your child at 11:30 AM.